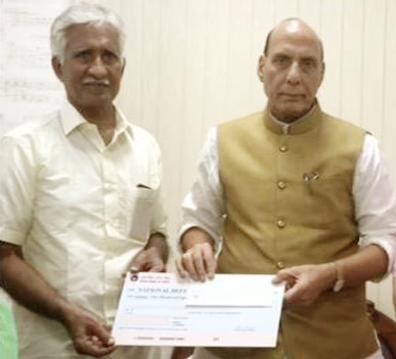 A Message from our Chairman
to People from Sanatana Dharma.
Dear all stakeholders and donors.

It is a great pleasure to inform you that I will be taking up charge as the Chairman of our Foundation with immediate effect and assure you that we as a team with the support from all of you, will strive our best to meet our objectives and reach our Mission of taking Gita wisdom to over 50% of the world by 2050.

I hope this New Year "Shubakrut" will bring positive vibes that are required to reinstate the Sanatana Dharma that got damaged for 3500 years. The world is witnessing a huge divide between humans over sectarian reasons like religion, race, nationality, colour, gender and whatnot. The highest level of madness and ignorance is happening in the name and form of God. "Religion" is the most insane invention ever in the history of mankind. "The theory of God" which is supposed to make us understand our source, the reason for being born, and the two vital life elements, Karma and Dharma, is working the other way round and becoming detrimental to human betterment.

To save the world from insane "GOD THEORIES", we from the Bhagawat Gita foundation for Vedic Studies made a road map to take Gita wisdom to over 50% of the world's population by the year 2050.
Not only are we fighting the Kali Purush that over 90% of the world invited into their hearts, but we are also trying to awaken the remaining 10% who are completely unaware of the danger this 90% are going to bring onto them. It is not just 1 Gita university campus that we have to build, but we also need to partially support the establishment of 1000 Karma Yoga centres, after which they can sustain on their own.
We intend to perform Bhumi puja for Gita university on Gita Jayanti, i.e., 3-12-22, and commission the same on 1st December 2025. We intend to create 1000 Gita gurus and establish 1000 Karma Yoga centres in 500 most populous cities all over the world by 20th December 2026. The timelines for our Mission are very clear and we expect an equivalent response and reciprocation from our supporters.
We need moral support from 1% of the 1 billion Hindus without which this mission cannot become a reality. We expect these 1% people (1 crore people) to share our project details and Gita content that we host on our YouTube channel to their social media contacts.
Again, without money, we cannot even dream of handling this level of an international project. We need financial support from at least 0.1% of Hindus, which comes to 10 lakh people of the current 100 crores. The biggest problem for Hindus is that they expect someone else to come and clean the mess and that could be the reason why God himself had to come so many times to this land. Had good people been united and learned to fight evil, then Lord Vishnu would have saved his time and energy and invested it in something better. So, I am sure that we are even troubling the Gods with our sloth and stupor. We all know that God will descend only at the ripening stage of Kaliyuga and in the meantime, we have to clean our own mess with rational discussions, dialogue and engagement with each other.
So, I look forward to at least 10 lakh people from all over the world who are running their business enterprises, along with other working professionals and software engineers, taking an oath and donating as little as 1000 rupees every month for 20 months. With these funds, we can not only complete all the four phases of Gita university construction to international standards, but also make two Hollywood films in English, one on Lord Rama and another on Lord Krishna. We will also dub these films in the 20 most spoken languages of the world. This is the small investment you have to make, to give your children a peaceful society where they will not be driven away and looted, as it had been happening for 1200 years in many parts of Akhanda Bharat.
I, Chalasani Balaramayya Prasad, humbly bring to your notice that I have donated about 350 acres of the very prime land that would cost over 1000 crores to their current day market value to various social causes in the past 20 years. I request all of you to donate as little as you can right from 100 rupees a month to whatever you can all through your life to this Megaproject.
I have worked in Air Force for 9 years. Thereafter, I was a successful businessman for 25 years and for the past 2 decades I chose to give my life to serving society. Now, while I am about to withdraw from all kinds of Karma (Actions), at the request of the directors of the foundation, I pooled all my energies and came forward to hold the steering of this foundation as the Chairman, considering it as an order from supreme cosmic power.
I specially request all the corporates to kindly come forward and make your donations for Gita Education as a part of your CSR funds. I will be glad to meet the donors any Saturday from 12noon to 3pm at our Ameerpet office. People who wish to meet me in person may email us at [email protected] and Whatsapp your details to our office staff Ms.Reshma on 89779-31068.
As the chairman of the foundation, I assure all the donors and stakeholders that I will utilise every rupee for establishing the principles of Karma and Dharma across the world till we reach our mission.
Hoping for the fullest cooperation from all of you.
Yours'
Chalasani Balaramayya