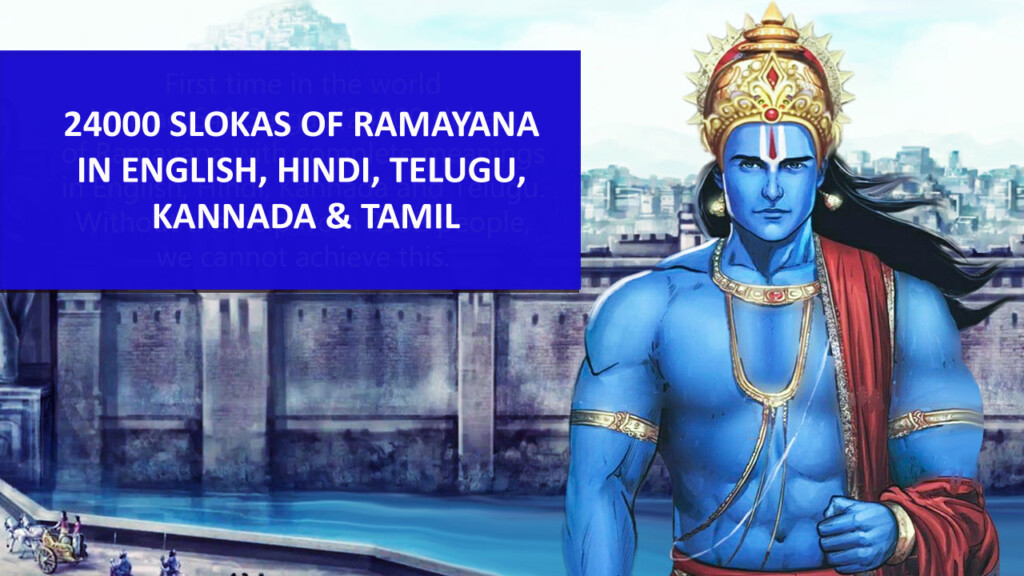 For Project documents in the form of Pdf files, please visit this link [ https://gitauniversity.in/project-documents ]
To see various support Options from Rs.100/- to Rs.10000/-, Pick [ Support Options ]
We are glad to inform you that we have taken up digitizing the entire 24000 slokas of Valmiki Ramayana with MEANINGS for the first time in the world. Many people have done Sankshipta Ramayan in many languages and have restricted themselves only to reciting the slokas. But, we will have the meanings also explained for every sloka as it is without any self interpretations.
We all know that GITA is the whole essence of our Complex Veda shastras. For the people of the Kaliyuga, Lord Krishna has given GITA wisdom to make everyone learn the essence of Vedas in its simplest form. When we think of a person who has followed Karma yoga in its absoluteness in the history of mankind, we get "Rama" in the first place. So, when we speak of GITA as a Theory book for Karma Yoga, RAMAYANA is all about demonstrating the same in real-time.
Project awaiting for Donors:
We are doing all the 24,000 slokas in 5 languages namely English, Hindi, Kannada, Telugu and Tamil. This project is estimated to incur an expense of about 5 crores @ Rs.16,000/- per sarga and is scheduled to be completed in 24 months from the time we get a sponsor.
Sponsor one Chapter in one language for Rs.16,000/-
There are about 77 chapters in Balakanda, 119 chapters in Ayodhyakanda, 75 chapters in Aranyakanda, 67 chapters in Kishkindakanda, 68 chapters in Sundarakanda, 131 chapters in Yudhakanda, and 111 chapters in Uttarakanda, making the total to 648 chapters. We need 648 x 5 languages = 3240 donors to make this possible. We shall display the sponsor's name (Up to 4 names) as shown in the sample file.
Brand Promotion for Corporates.
This will be the best platform for corporates to advertise their brand as the advertisement will be on our YouTube Videos in all five languages as long as this earth survives. This content suits well for Cloth and Jewellery business corporates having their presence or planning to have their presence in Pan India. So, we request the cloth or jewellery stores to please come forward to sponsor Ramayana in all 5 languages for five crores. Helping Dharma reach millions of people while promoting your brand is a rare opportunity God will give only to the rarest of the rare. Let us leave the decision to God. He will surely pick the most deserving sponsor for this divine task. Rich Business people, Politicians, and Temple Boards may also sponsor this Mega Project. Contact 8520933933.
Ramayana Mp3/ Mp4 Files open for Public:
Ramayana Audio files will be given free to 6,49,481 village temples all over India. We shall make the audio files available for all village temples where they can play one sarga every day, thereby completing the entire Ramayana in 2 years. We shall also make video files of the Ramayana as a whole free on our YouTube Channel and a particular music version available exclusively on iOS and Android Apps for our donors of this Valmiki Ramayana project along with donating to producing a Hollywood film on Lord Rama and donating for Gita university project.
Visit www.valmikiramayana.in for full details.
Jai Sri Ram