GITA UNIVERSITY INFRASTRUCTURE
For Project documents in the form of Pdf files, please visit this link [ https://gitauniversity.in/project-documents ]
To achieve our objective of teaching Bhagawat Gita to 5 billion people, we need an international standard university campus on 100-200 acres to create 10000 Gita Gurus and 40000 Digital Gita gurus.
Location: We find Bangalore and Hyderabad to be ideal locations keeping because of the cosmopolitan culture, climate and central locations in India. Very soon we shall request both the state and central governments for the land and all the help required to make this project a reality. Let us leave the location decision to Lord Krishna and he will decide where he intends to have this central setup. We shall conclude the land aspect before December 2023.
The structural components required for the functioning of the University at its full pace are given below. We aim to fundraise during 2021-2023 and construct the basic infrastructure required to train Gita gurus within 3 years and complete the project in its entirety by the year 2030. The pace of the construction depends on the pace at which the Corporates, Software Employees, Businessmen, Professionals, and Governments donate and support this cause.
Now, let us see the basic Infrastructure required for the functioning of the University.
i) The infrastructure for Training Gita gurus.
a. Auditorium for 2000 people.
b. Accommodation for 2000 people.
c. Separate Kitchen and Dining hall.
With this capacity, we can impart 4 months of training to 6000 gurus every year. A few who qualify, get into the establishment of Self-sustaining Sathsanghs, an affiliate setup of Gita University and others may preach Gita on their own or at the Sathsanghs. If Gita University is commissioned in the year 2026, it can impart Gita Wisdom to 54,000 people by the year 2035. Of these 54,000 people, we shall pick the best 10,000 people and help them establish a SathSangh @ one for every million people all over the world.
ii) The infrastructure for Training CEOs & Managers.
a. Halls for 200 people (10).
b. Accommodation for 2000 people.
c. Separate Kitchen and Dining hall for 2000 people.
Here the classes will be conducted for 18 days, especially for CEOs and Managers of small and medium enterprises and politicians at all levels. With this capacity @ 15 batches in a year, we can impart Gita wisdom to 30,000 people. When CEOs and Managers have Gita wisdom, the entire team working below them will be the beneficiaries.
iii) Infrastructure required for training fresh graduates.
a. Hall for 500 people.
b. Dormitory Accommodation for 500 people.
c. Separate Kitchen and Buffet Dining setup for 500 people.
This is a finishing school concept, where the college management can send their students to Gita University during their final year of graduation for 6 days of life skills training. With this capacity, @ 50 batches in a year, we can impart Gita wisdom to 25,000 young students.
iv) Infrastructure required for Gita gurus and other staff.
a. 2BHK Flats – 50# for our Gita Gurus who teach Gita to our students.
b. 3BHK Flats – 50 # for Board members and High-security / Esteemed Guests.
c. 1BHK – 50# for sub staff
The first phase of construction is estimated to cost 200 – 300 crores on the minimum side, while the total project is estimated to cost 1200 crores. The total construction is expected to be completed by the year 2026 if the funds flow as per plan. We expect 1/4th of the funds from the public by way of small donations, and the remaining 3/4th funds from corporates, film stars, high-income sports celebrities, and from the endowments funds from all the 29 state governments.
v) Infrastructure required for "CBR Defense and Sports school for Orphans"
This is given in Objective 2 of our foundation.
a. School will have a total capacity of 1000 boys and 1000 girl students from Nursery to Graduation.
b. Accommodation for 2000 students.
Note: We shall take orphans from all over India and make them prepare for Defense services, Civil services and make them good officers who can save our country and people. We also give them specialized world-class training in sports aiming for making them Olympians under the guidance of our chairman Sri.CBR Prasad and a few other reputed sports personnel. This will be taken up as the last phase of Gita University construction and we have budgeted 200 crores for the same.
Summary: This project needs 10 lakh people who can donate Rs.12000/- on average or 1 lakh people who can donate Rs.1 lakh rupees on average or 4800 HNI's who can donate 25 lakhs on average or 12 corporate companies in India who can donate 100 crore rupees on average.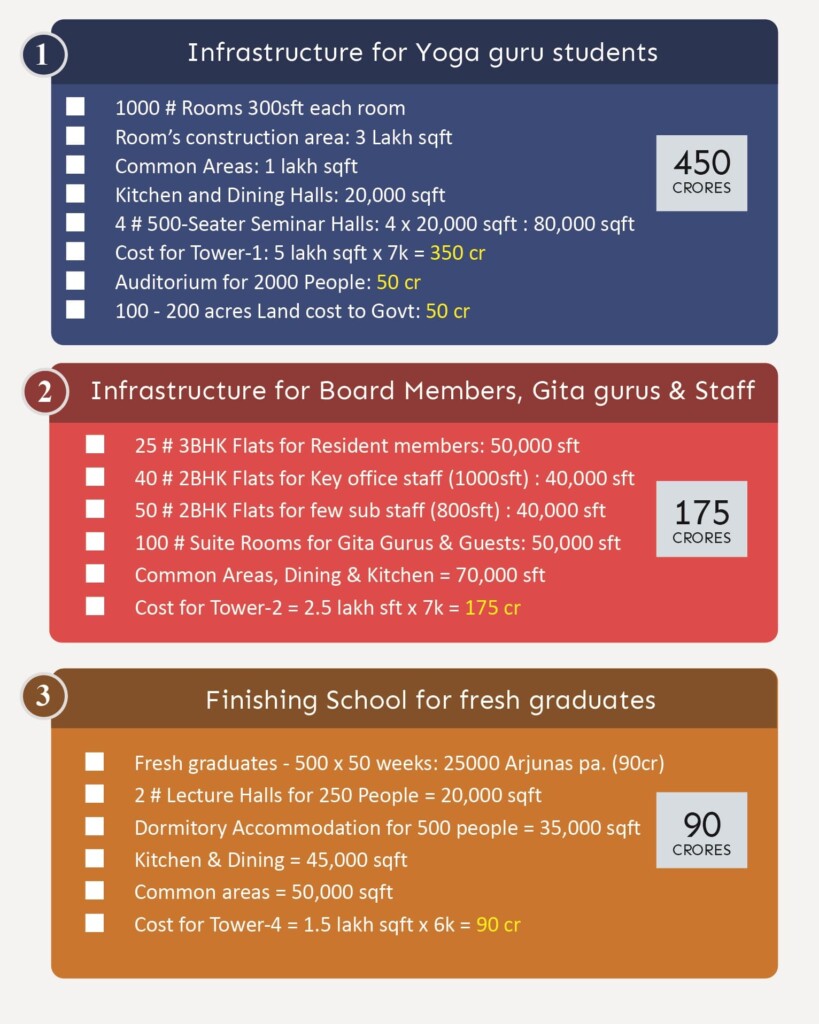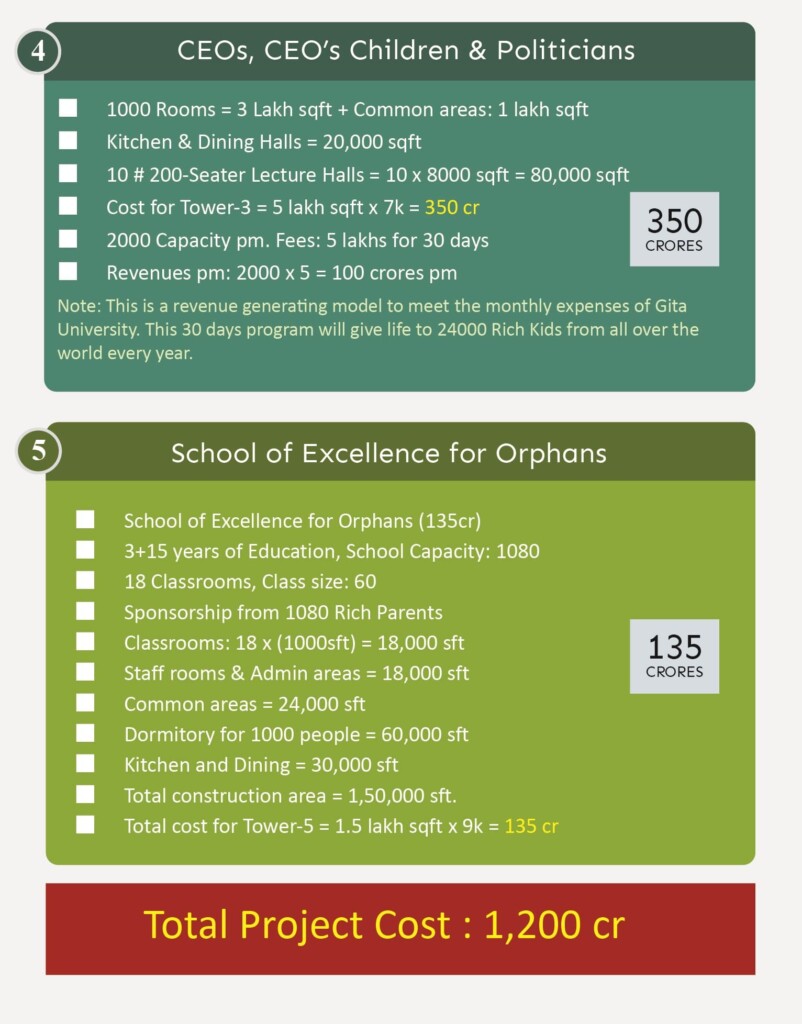 Pick the below buttons to send your contributions by Gpay, PhonePe, Bank Transfer, Credit cards, Debit cards, PayTM, Paypal etc.