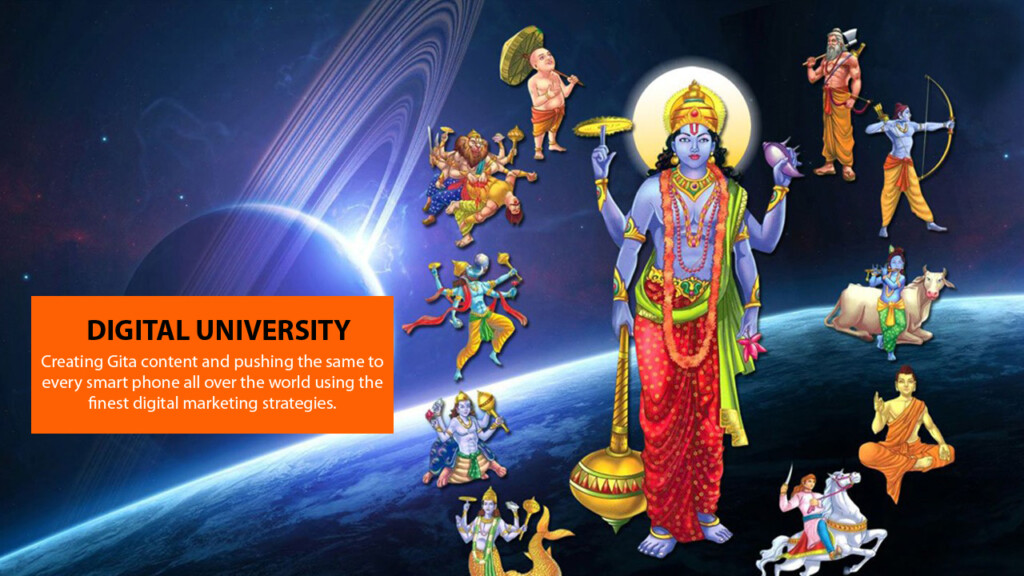 For Project documents in the form of Pdf files, please visit this link [ https://gitauniversity.in/project-documents ]
To see various support Options from Rs.100/- to Rs.10000/- [ https://gitauniversity.in/donate/ ]
Digital Gita University?
As you all know, we have 3 modes of approach for taking Gita wisdom to the world. One is to have a "Physical University", create Gita gurus, and establish 1000 physical sathsanghs / Yoga centers / Karma Yoga ashrams, in the top 1000 highly populated cities all over the world by 2026. These 1000 Sathsanghs during 2026 and 2035, will send 50000 people to Gita University for additional training on Gita and other services offered at Sathsangh. They will start teaching Gita using online methods. The second approach is to have a "Digital University" to create world-class Gita content and to take the same to every computer and every mobile using the world's best digital marketing methods. The third approach is the "Mobile University", where we plan to have 1000 mobile wisdom vans operating from the first 1000 sathsanghs and will distribute 100 crore Gita books and other life management books using Gita in their jurisdiction.
We have scheduled to make this digital content ready by 2030. Firstly, we intend to present Bhagawat Gita in 10 styles, catering to the different mindsets of people all over the world. We started this project in the year 2017, and So far we have completed three types of Bhagawat Gita in 5 languages, namely, English, Hindi, Telugu, Tamil, and Kannada. We are planning to do the same in a few more languages, like Urdu, Bengali, Marathi, Malayalam, Gujarati, Arabic, Russian, Spanish, French, Portuguese, Indonesian, German, Japanese, Korean, and Turkish, during the years 2022 and 2025. Later, we intend to digitize the entire Vedas, Puranas, Upanishads, and Itihasas in English, where the mantras/slokas will be clearly recited along with explaining the meanings of the same in English to start with.
Gita content
Download and copy to a Pendrive and play in your car:
https://gitauniversity.in/getmp3files/
Pick this link to see our iOS & Android Apps
Pick this link to download 24×7 Gita Radio
Pick this link to see our YouTube channels.
Funds Required for Content development and Digital promotion:
We expect every person from Dharmic spiritual philosophies to come forward and donate as little as Rs.100/- – Rs.1000/- every month for their entire lifetime, to create Gita content and promote the same all over the world using best-in-class digital marketing methods.
Jai Shri Krishna.