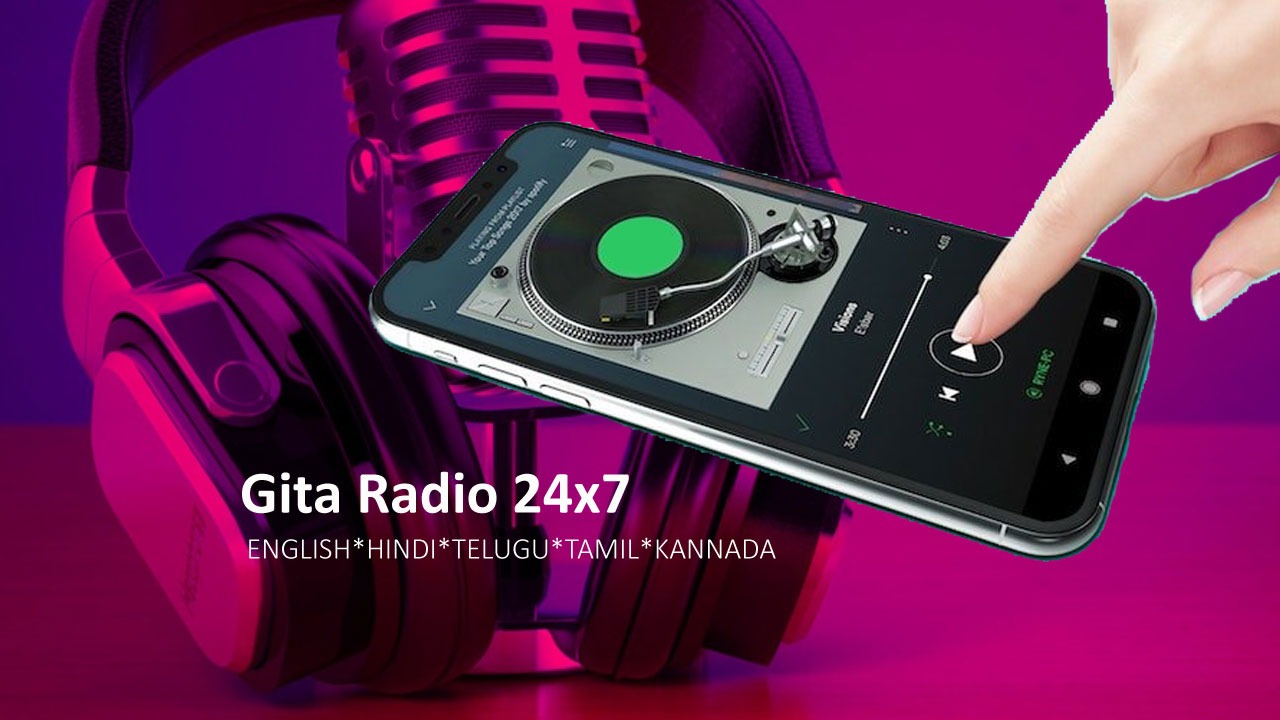 For the full project document, Pick here [ Full Project ], Download Project PDF [ Gita University Project ]
To see various support Options from Rs.100/- to Rs.10000/-, Pick [ Support Options ]
Bhagawat Gita Radio.
Advantages of Internet Radio?
In order to receive a broadcast from a terrestrial radio station, you must be relatively close to it. But for internet radio, there are no boundaries! Checking out the quality of sound, traditional radio is subject to interference and environmental factors. A slight movement of the terrestrial radio will cause annoying fluctuations. Internet radio is less compressed and has sound quality closer to a CD. With clarity, variety and so much more to offer, people are compelled to discard away their traditional radio and switch to online streaming! The outlook for radio has changed amazingly with the introduction of the spellbound internet and streaming media technology.
Without withstanding the pain of downloading any station or channel, the internet radio allows its listeners to stream media continuously. It does not give us a chance to miss out on anything that is available on traditional broadcast radio stations, be it, news, weather, educational programs, sports, music, chats or talk shows. Internet radio has become a great source of entertainment, education and motivational talks.
Let's consider the potential internet radio landscape. The average person sleeps approximately seven hours a day, meaning there are up to seventeen listening hours per day that one could listen to the internet radio. Additionally, it's expected that in two years 3.5 billion people will be online, bringing the total of possible listening hours worldwide to 59.5 billion per day.
So, in order to make people utilize their working hours in a more productive way, we brought forward this Bhagawat Gita Radio for the first time in the world in English, Hindi, Telugu, Tamil, and Kannada. by 2025, we shall make Gita Radio available in 20 languages.
This Radio is dedicated to 1 Cr Gita Gita book sponsors.
The primary motto behind presenting this App is to give the people "something worthy" to listen parallel to their routine works, which will be useful for a happy living and upliftment of their souls. The secondary reason is to create a group of one crore people who believe in Bhagawat Gita and who wish to see over 50% of the world follow Gita by heart, words, and actions. These people shall sponsor 1 Gita book worth Rs.200/- to foreigners. This App is dedicated to these 1 crore people who believe that Gita wisdom alone can bring peace within an Individual or in the world among people of different faiths.
Download the Radio App here.
[ Gita Radio App on iOS ]      [ Gita Radio App on Android ] 
Sponsor 1 Gita Book
(We need one crore people who can donate Rs.200/- every month )
We aim to distribute 1 crore Gita books in foreign countries every month for 100 months
[ Express your willingness ]