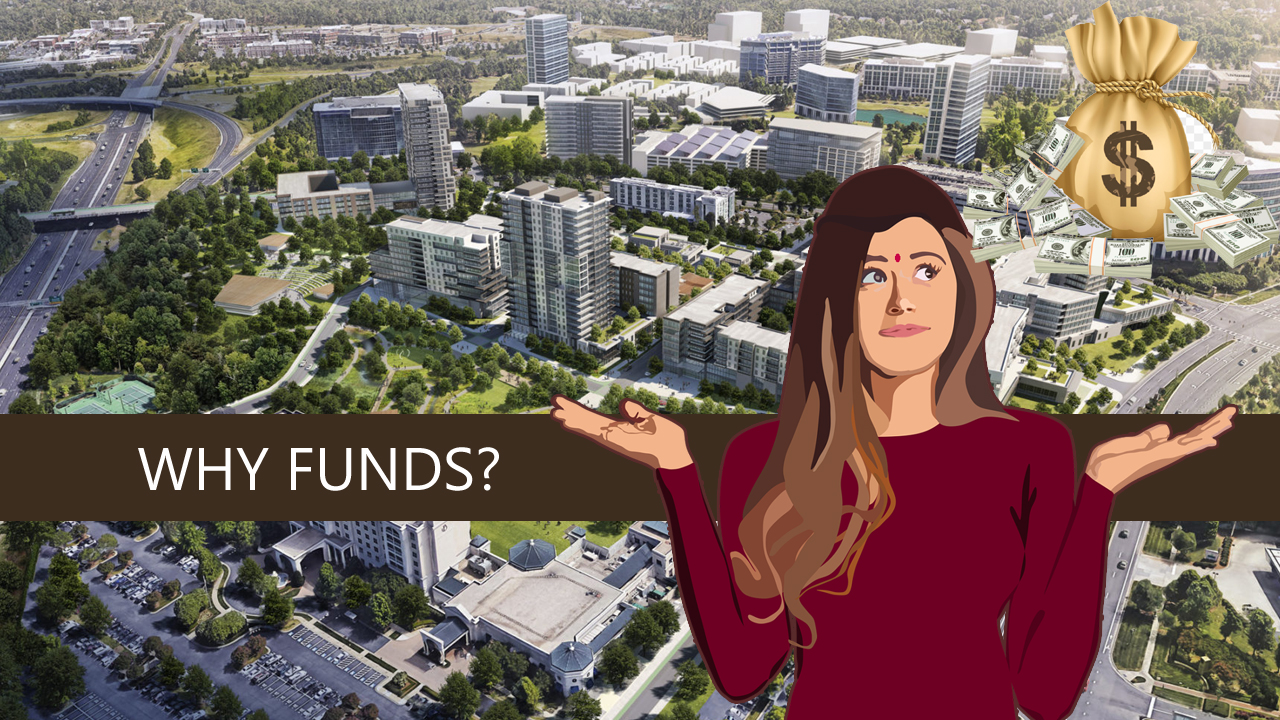 1. Funds Required for Physical University Campus
ROUGH PROJECT ESTIMATE (SUBJECT TO MODIFICATIONS)
Infrastructure for Yoga guru students (450 cr)
1000# Rooms 300sft each room
Room's construction area: 3 Lakh sqft
Common Areas: 1 lakh sqft
Kitchen and Dining Halls: 20,000 sqft
4 # 500-Seater Seminar Halls: 4 x 20,000 sqft : 80,000 sqft
Cost for Tower-1: 5 lakh sqft x 7k = 350 cr
Auditorium for 2000 People: 50 cr
100 acres Land cost to Govt: 50 cr
Infrastructure for Board Members, Gita gurus & Staff (175cr)
25 # 3BHK Flats for Resident members: 50,000 sft
40# 2BHK Flats for Key office staff (1000sft) : 40,000 sft
50# 2BHK Flats for few sub staff (800sft) : 40,000 sft
100# Suite Rooms for Gita Gurus & Guests: 50,000 sft
Common Areas, Dining & Kitchen = 70,000 sft
Cost for Tower-2 = 2.5 lakh sft x 7k = 175 cr
CEOs, CEO's Unmarried Children & Politicians (350cr)
1000 Rooms = 3 Lakh sqft + Common areas: 1 lakh sqft.
Kitchen & Dining Halls = 20,000 sqft.
10# 200-Seater Lecture Halls = 10 x 8000 sqft = 80,000 sqft
Cost for Tower-3 = 5 lakh sqft x 7k = 350 cr.
This is a revenue model to meet the monthly expenses of Gita University.
2000 Capacity pm. Fees: 5 lakhs for 30 days.
Revenues pm: 2000 x 5 = 100 crores pm.
This 30 days program will give life to 24000 Rich Kids per annum from all over the world, preferably before marriage.
Fresh graduates – 500 x 50 weeks: 25000 Arjunas pa. (90cr)
2# Lecture Halls for 250 People = 20,000 sqft
Dormitory Accommodation for 500 people = 35,000 sqft
Kitchen & Dining = 45,000 sqft
Common areas = 50,000 sqft
Cost for Tower-4 = 1.5 lakh sqft x 6k = 90 cr
School of Excellence for Orphans (135cr)
CBR SCHOOL FOR DEFENSE, SPORTS & CIVIL SERVICES.
3+15 years of Education, School Capacity: 1080
18 Classrooms, Class size: 60
Sponsorship from 1080 Rich Parents
Classrooms: 18 x (1000sft) = 18,000 sft
Staff rooms & Admin areas = 18,000 sft
Common areas = 24,000 sft
Dormitory for 1000 people = 60,000 sft
Kitchen and Dining = 30,000 sft
Total construction area = 1,50,000 sft.
Total cost for Tower-5 = 1.5 lakh sqft x 9k = 135 cr
Total Project Cost 1200 cr
Note: 3D Architectural walk-through will be presented within 3 months after doing Bhumi Puja hopefully in December 2022. This will be an easy task if every person who comes across this Project can donate Rs.500/- pm for 24 months, without thinking that someone else will donate.
2. Funds Required for Digital University
Making Digital content (Mp3 and Mp4 files)
Making 10 types of Gita in 20 world's most spoken languages along with digitizing the entire Vedic philosophy that includes 4 Vedas, Upanishads, Puranas, and Itihasas. So far, with personal funding from the directors, we have made Gita in 3 styles in over 5 languages. We have to do the same in 15 more languages. Also, we have to do Gita in 7 more styles as mentioned in our Gita Dashavatars video.
We intend to promote Bhagawad Gita all over the world on YouTube, Facebook, Twitter, Instagram, etc. This is very important in this digital world. We look forward to budgeting one lakh rupees every day for another 30 years to push Gita saar to all mobiles across the world. We have the plan to make Gita content in the simplest way in 1000 small video files in over 20 languages and push the content to 195 countries.
Funds required: We request software engineers, doctors, business people, and others to be a part of this yajna and donate as little as Rs.100/- to Rs.1000/- every month for their lifetime.
3. Mobile University
(Shata Koti Gita Gnana Yagna)
We need around 20 lakh donors who can sponsor 5 Karma Yoga books on average each costing Rs.200/- every month (or 1 crore donors who can sponsor 1 Karma Yoga book) starting from the year 2025 till the year 2035. This will enable our 1000 Sathsanghs to distribute 100 crore Yoga books (during 2026-2035) in 100 months in foreign countries, through mobile wisdom vans. These 100 cr Karma Yoga books along with our free mobile Apps and 24×7 Gita web radio and 10 types of Gita in 20 languages can show 5 times the impact worldwide.
As a practical part of the Bhagawad Gita, we started digitizing 24000 slokas of Valmiki Ramayana with meanings for the first time in the world. We are looking for 3240 sponsors who can donate Rs.12000/- for each sarga. Visit www.valmikiramayana.in to support this project.
People who wish to sponsor one sarga of Valmiki Ramayana may kindly visit our website to donate.
         5. Introduce Lord Rama and Krishna to the world
When no producer is coming forward to take Rama and Krishna to the world, it is the duty of all dharmic people to come together and demonstrate to the world, the stories of the two all-time real heroes.
Making Hollywood films on Lord Rama & Krishna in 2023 and 2024 and releasing them in the years 2025 and 2026 will pave the way for our 1000 Karma Yoga gurus to start sowing the seeds of Gita Jnana all over the world. We also intend to dub the most famous TV serials on Mahabharata, Hara Hara Maha deva, and Ramayana in 20 most spoken languages and telecast them on their TV channels as a part of making the Vedic literature popular worldwide.
The initiation of fundraising for making a Hollywood film on Lord Rama and Lord Krishna will start in March 2023. We seek 1 lakh NRI's to donate as little as $600 one-time and $60 for 10 months and 10 lakh people Pan India who can donate Rs.5000/- one-time or Rs.500/- per month for 10 months. People may visit www.universalheroram.com to express their interest.
Note:1
The budgets kept above are rough estimates and detailed estimates along with Architectural plans will be done after we procure the land. Any mistakes on this page may be brought to our notice by email at [email protected]
Note:2
The foundation needs funds on monthly basis for making Bhagawad Gita in 15 languages in addition to the 5 we have made so far, making Valmiki Ramayana, salaries of Call center staff, back-office staff, video editors, singers, animators, accounts staff, keyboard players for BGM's, music composers, studio expenses, email and WhatsApp campaign costs, website design, updates and upgrades, tours and travel expenses of the directors etc. For all these, we have budgeted 10 crores for the coming four years, i.e. from April 2022 to December 2026. 
So, all the donors should make a note that any donation over and above 10 crores will be used for the procurement of land and university construction. So, the donors should be aware that every single rupee that they donate cannot be kept as a fixed deposit and we have an expenditure of Rs.15-20 lakhs per month for the coming 48 months. The funds over and above 10 crores will be deposited in a separate bank account and will be managed and spent by the Chairman of our foundation exclusively for physical university construction.
Jai Sri Krishna
Pick the below buttons to send your contributions by Gpay, PhonePe, Bank Transfer, Credit cards, Debit cards, PayTM, Paypal etc.