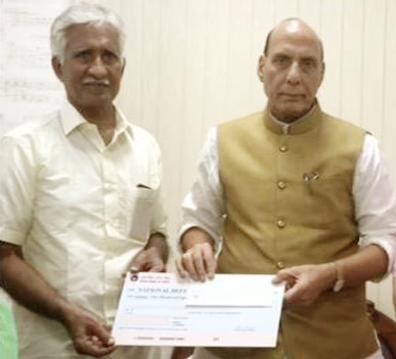 About our Chairman
Sri.Chalasani Balaramayya
Shri Chalasani Balaram Prasad, popularly called CBR, was born in Bhatlapenumarru village, Krishna District, Andhra Pradesh. 
Shri CBR grew up to be a very determined person in everything that he took up. He was inspired to play sports by a farmer from his village who went to the Olympics. He suggested that the best way to continue in sports and participate in the Olympics is by joining the armed forces. This took him into the Airforce.
After serving for 9 years in the Airforce, he was offered a job by the Indian Railways. He planned to take up this job, by quitting the Airforce. But, due to some disagreements, he rejected the job. At this point, he had nothing left with him, and he felt lost.
A man with immense grit and determination, he is not the one to give up. With the small savings he had, he started a poultry farm. Success is the only destination that hardworking people reach! For the next twenty years, Shri CBR toiled to build his poultry empire and his net worth. Wanting to give back to his motherland, Shri CBR joined the RSS. Here began Shri CBR's journey into the field of seva for Dharma. For the next 10 years, he actively gave his best to the service of his motherland. As a member of Seva Bharati, he helped construct a hostel for young girls.
After a decade's service, Shri CBR began working independently. A big chunk of his funds went into sponsoring sportsmen. Soon he found that talented men and women could not pursue sports as a career and abandoned playing sports as soon as they went into college or found a job. It saddened Shri CBR to see that sports was not being considered as a good career and decided to do something about it. He took the drastic step of closing down his business so as to focus on creating sportsmen for India. He started an academy for sports. Under his guidance, over 50 sportsmen successfully achieved medals both at the National and international levels.
He found motivation and passion for seva to his motherland in the words of Shri G.D. Naidu, who had said, "India was once the greatest nation because people used to give back a lot to the society. Everyone who completed his or her responsibility towards family would serve the society so that the future generations could continue all the good deeds done by their predecessors and also learn from their mistakes." Shri CBR was exposed to these words at a very young age thus putting him on a path to contribute to the betterment of society.
He then closed his business completely and started an academy for sports. He has kept a bare minimum of 3% of his savings for himself and his children and has donated the remaining 97% for noble causes. He has so far donated 350 acres of prime land at Hyderabad and Vijayawada which is worth about 1000 crores in its todays cost and kept a bare minimum for his family.
He is a 'Netaji Subhash Chandra Bose without Khakhi' and a 'Swami Vivekananda without Saffron robes'. These two statements give us a full picture of Sri Chalasani.
We thank Lord Krishna for making him endorse the Mission 5 Billion project and for accepting our request to Chair the Foundation.
Such great is the stature of this passionate Sevak of Bharat, who we lovingly call CBR!
Anand Reddy, Director
Bhagawat Gita Foundation for Vedic Studies.